when doves die...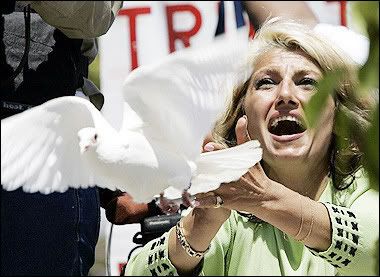 Seriously. Enough with the doves. I'm pretty sure that
they
are most undoubtedly non-guilty on all charges.
In fact, all of the previous doves set free are either dead of starvation or waiting for this dove to be let out blindly into the world so they can all "meet up for drinks." Yes, folks. He's the final kamikaze dove of the Michael Jackson Molestation Trial. And he will surely not see the next MJ trial. So sad.
Chew on that one, Dove Lady.
p.s. Does anyone else feel like we just let the Green Goblin go free? Just because he doesn't get all Green Goblin-y around adults doesn't mean he's not a huge supervillain that must be stopped at all costs, right?? Can we get someone on teaching these damn pigeons to follow him around 24-7? We're already all over friggin' space looking for aliens. Can't we just do this one simple thing?? Thanks.