i quit at snarky t-shirt making...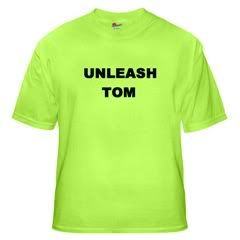 WTF
Save Katie
t-shirt making people?? You totally stole my freakin' snarky celebrity t-shirt thunder!! For three generations now, all my family has been known for is for sitting on our asses until a celebrity does something stupid so we can make a t-shirt about it and produce a gratuitous profit. Now the only thing gratuitous is going to be the shaming I get at our annual family Christmas dinner this year when I ask someone to pass the mashed potatoes. "You're too late, Slowseph. They're all eaten," some stupid uncle probably will say.
But, seriously, why?? WHHYYY?? I went through
pure hell
to get the t-shirt you see above made. I spent the 2 to 3 minutes on
Cafepress
filling out a damn application. THEN I had to spend another 5 minutes choosing the design of my t-shirt (short-sleeved) and color (Hulk lime green). Good God, I've been tracking my original order of 5000 t-shirts on FedEx for a day and a half now. Have you ever tried doing that successfully on their website?? Pure HORROR.
I was even going to have a Unleash Tom T-shirt Launching Party at
Geisha House
. It was all in the works, you see. Ashton and Wilmer probably weren't coming but I was hoping for a Masterson brother. I didn't even care which one. Yeah. Look what you've done. You've denied a Masterson brother the pleasure of partying in the name of my Unleash Tom t-shirt. Suck it.
Just what am I going to do with 5000 Unleash Tom t-shirts now? I guess I'll just give them to a homeless shelter. Of course nobody's going to buy it. It would be like jumping onto a mini-bandwagon that was already in the back of an original bandwagon. That's way too wagons, dude. You practically broke my
Oregon Trail
bandwagon's axle in a malicious way.
I'm so serious when I say that I will never forgive you for this. I hope your t-shirts all die horrible t-shirt related deaths!!!!!!!!!!!!!!!