maybe bringing my daughter to fantasy fest was a bad choice...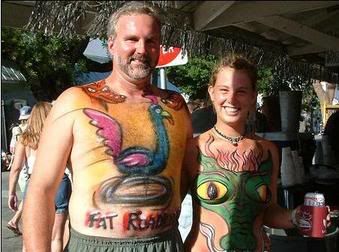 This is kind of embarassing. We definitely should have gone to Disneyworld. When I heard fantasy, I thought of "once upon a time" and "mice singing songs" and "small-world puppets with big-city dreams." But this is ridiculous. I just wanted some productive father-daughter time during my only week of vacation from work. You know, Epcot and maybe some Splash Mountain. I didn't know I would be spending the entire day averting my eyes from my daughter's ample bosom. Man, that's a cool dragon. NO!! Stop IT!! Stop looking at the dragon!! That is your daughter, you sicko!!
Here, sweetie, hold this beer. It will make me look young. Maybe someone will try to card me. That would be pretty sweet. Maybe I should have shaved my beard. Added some color to my hair?? No?
Okay. That guy just looked at Susie. Should I call him on it or be Cool Dad? And if I call him on it, what am I going to say? Stop looking at my daughter's funyons, you loser!! That would probably embarrass her.
Maybe I should get one of those beer hats with the tubes and straws and stuff.
Fat Roadrunner was a bad choice. I look like an idiot. I just know it. I think a lady just pointed at me and admonished me for wearing Umbros. The nerve. At least I didn't airbrush my hoo-ha.
I don't have a hoo-ha. I hope everyone knows that.