britney not pregnant, just really really fat...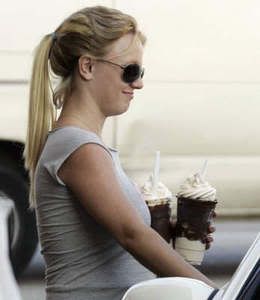 When Britney's water eventually breaks, will it actually "break" or just ooze out like the icing on top of a Cinnabon??
I mean...that is a
hell
of a lot of sugar. And you
know
that both of them are for her. Actually, KFed probably wanted one but she'll get back to the car and already have eaten one of them, plastic cup, plastic spoon and all. He'll then probably say something like, "What the hizzell, woman," and she'll threaten to take away his allowance. Or growl at him until her acne pulsates with intense pregnant anger.
And
of course
the sex is grrrreat
. After two chocolate cups topped with chocolate, I'm betting Brit practically mauls KFed like a cracked-out bengal tiger just to burn off some of that sugar. Then she'll take her requisite 14-hour nap until the next trip to the ice cream store/Starbucks/Sugarville. What a weird weird life these two lead.