mary-kate is angry at everyone...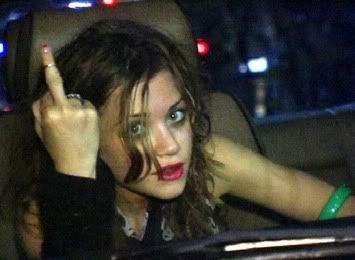 Top Ten Reasons Why Mary-Kate Olsen Might Be Angry (Look At Her Middle Finger And You'll Know*)
10. Her behemoth boyfriend "sunk her battleship." Wink wink.
9.
Urth Cafe
moved and didn't tell her (shhhh...they just camouflaged it with dinner rolls).
8. Her middle-finger ring doesn't fit
7. E.T.
phone lawyers
6. E.T. then
phone originality police
5. She had just learned that the West...not fun.
Not fun at all
.
4. Ashley didn't invite her to "
Xtina Makeover Day
."
3. She failed Candice Cameron Bure's
Jesus Quiz
and was forced to sit in the cupboard with the Bure sons (who, btw, are still as unhappy as their picture)
2. She ran out of lipstick. And red marker. And blood.
And the final reason why Mary-Kate might be angry...
1. She's not angry. She's doing middle finger pushups. (The last one has to be mega-lame. All of Letterman's definitely are.)
*Subtle nod to Dane Cook.