and the award for show i definitely won't be watching this fall goes to...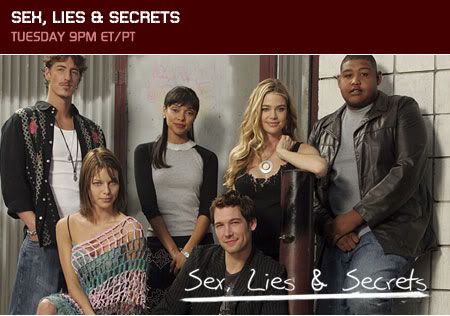 Congratultions
Sex Lies & Secrets
!!
You win a horrible title and an equally awkward cast photo!
Also:
A) Eric Balfour (aka Constant Facial Hair Guy) will forever be the guy that may or may not have knocked up Theresa on
The O.C.
He also had a kicking Chino birthday party. How did you know it was Chino?? Because the grass wasn't mowed and there was a chain link fence holding the balloons.
B) Only Semi-Attractive Girl is wearing one of my mom's afghans. They were crappy because they were useless at keeping you warm. Therefore, I dislike this character right off the bat. Nice job.
C) I only bought the
Dawson's Creek
characters playing 10 years younger because they were relatively new and virginal-looking. Denise Richard's popped out one kid and has another on the way. That's just gross. She's about 10 years too late to this party. And she's wearing the CBS emblem. Did UPN even look at this photo first??