paul walker: most intense jet skier of all time...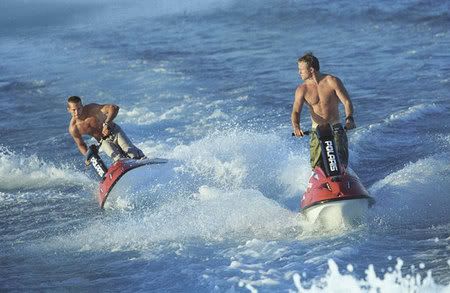 Despite J. Alba's inclusion, I was originally on the fence about this summer's
Into the Blue
. But then I saw this super-intense jetski picture and all fears were vanquished. I mean...look at it. That's not the Paul Walker we know from
Fast and the Furiouser
. I think he's been taking
Intense 101 from Vin Diesel
.
Paul: "Dude, look at me. I'm so in the jetski zone."
James Caan's son: "I know, man. Look at you. Capital I intense."
Paul: "You can really tell because my biceps are so huge and my abs are so tight. I'm focusing all my intensity on those areas and that will really show if someone happens to take an on-set picture in the next five to ten seconds."
James Caan's son: "You should really go pro."
Paul: "If I was a lottery pick, I definitely would. Leave movies behind!"
James Caan's son: "Is there even an Intense Jetskiing Association??"
Paul: "I don't know. But I think I just burst some blood vessels."
James Caan's son: "That is SO intense."
Paul: "I know."