if tom cruise met kevin federline on the street...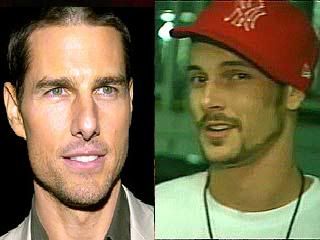 Tom:
"KEVIN, MAN!! I'M SO IN LOVE!!!! L-O-V-E!!!
Kevin:
"That's cool, yo. Love is love."
Tom:
"BUT I WANT TO SHOUT IT FROM A MOUNTAINTOP. I LOVE THIS WOMAN SO MUCH. I WANT TO HAVE MEANINGFUL RELATIONSHIP SEX WITH HER. THEN WE'LL HAVE 22 BABIES AND HAVE STEVEN DIRECT EACH AND EVERY BIRTH SO WE CAN SHOW THE WORLD HOW STUPENDOUS REAL LOVE REALLY IS!!"
Kevin:
"Marriage is dumb. Relationships are dumb."
Tom:
"I WANT TO BUY UP AN ENTIRE THIRD-WORLD COUNTRY AND ALL OF ITS INHABITANTS AND CALL IT TOMLOVESKATIELAND. WE'LL RETIRE THERE AND BE THE KING AND QUEEN AND EVERYONE ELSE WILL DANCE AND SING SONGS THAT WILL CELEBRATE OUR GIGANTIC LOVE. WE WON'T OFFER THEM PAYMENT BUT OUR
SO
OBVIOUS LOVE FOR EACH OTHER WILL BE ENOUGH."
Kevin:
"Yo, can I bum a cig?"
Tom:
"NOPE. I ONLY SMOKE THE CIGARETTE OF LOVE. YAYYYY!!! WHERE IS KATIE?? I AM SO HORNY FOR EMOTION RIGHT NOW!!!
Kevin:
"Uhhhhhhhh..."
Tom:
"IF MY LOVE FOR KATIE WAS A MOVIE, I THINK IT WOULD BE JUST LIKE
WAR OF THE WORLDS
, COMING JUNE 29TH. BOTH ARE HUGE AND FANTASTIC AND FULL OF SPECIAL EFFECTS AND ALL-ENCOMPASSING AND GRAND AND AWESOME AND COOL AND PHAT AND LARGE AND SEXY AND EYE-GOUGING..."