tom cruise 2.0 laughs at his awesomeness...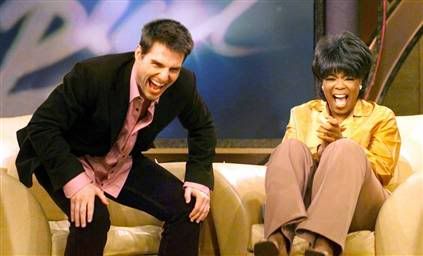 It is official. Tom Cruise is so obviously insane.
AND TOTALLY AWESOME!!!!!!!!!!!!!!!!!!!
It's come to a point in which I can't wait to see what he does or says next. It's like he's a whirling dervish of PR possibilities, ravaging the countryside and picking up cars, houses and small babies with his awesomeness. I don't even care anymore if his relationship with Joey Potter is a sham. If she is what had to happen to bring to the surface Tom Cruise 2.0, glory be it.
Now comes the news that A)
Tom 2.0 thinks Kate Bosworth is hawt
and B) he kinda
wants Joey Potter in Mission Pimppossible 3
as well???
When is this movie coming out??? I'm beginning to think it's not even going to have missions in it. It's just going to be Tom 2.0 and plot devices having him make out with every chick under the sun:
-The first scene must be shocking!! Maybe Tom 2.0 making out with some old broad and then, surprise, she keeps taking off her masks as she gets younger and younger and younger...until he's making out with the hottest fetus of all time.
-The main plot will be about how Tom 2.0 must steal something or find out who's doublecrossing him or anything else mission-y. But the
real mission
is how he'll ooze sexiness all over the screen with a velocity so rapid-fire and thick that you'll need a squeegee to wipe it off.
-In the middle of the movie, he'll get tired of being so sexy and drive a motorcycle through a cascading waterfall of supermodels, at which he'll of course be obliged to stop and make out with each and every one.
-The conclusion will have Tom 2.0 laughing and saving the day. Then, he'll look directly at the camera lens and say, "Instead of the end credits, I'm going to run a list of all the hot chicks I've banged."