about the end of last night's episode of lost (SPOILERS)...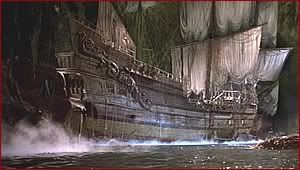 (SPOILERS

, y'all

)
Is it just me or did the cast of
Lost
just find One-Eyed-Willy's pirate ship in last night's episode??? You know, the one that Mikey, Mouth, Chunk, Data, etc., just allowed to sail away into the distance at the end of
one of the best movies of all time
. As a six-year-old watching that scene, I always wondered why they didn't all start swimming for that thing. If they really cared about the Goondocks, they would have. Out of a dozen people, someone was sure not to drown. Personally, I would have sent Rosalita. I bet she had some hidden Olympic-swimmer past that she didn't note on her employment application.
Anyways, if they
really
did find Willy's ship, they should be happy. Chester Copperpot didn't make it that far and their ship is now much bigger than that measly thing Sawyer and the other guys are sailing blindly into the ocean. I guess all will be revealed in next week's two-hour episode.
Related:
Gooniepalooza - The 20th Anniversary Celebration