lohan impossible...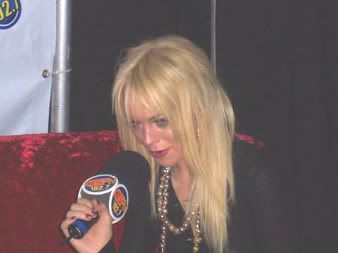 In a radio interview with LA's
102.7 KIIS-FM
immediately following her performance at Wango Tango Saturday, Lindsay Lohan let the news slip that she's going to China soon to film a BIG movie.
"What movie? Can you answer that," said the radio guy immediately as Lohan was still wet with sweat from the stage.
"
Mission Impossible 3
. Shhhh. You're the first ones I've told."
Soooo...ummm, I guess this is
breaking news
. Because I don't see it anywhere. Lindsay must be taking the role left vacant just recently by Scarlet Johansson (who coincidentally was mentioned in the
LAT's Lohan article
this past weekend.)
After the Katie Holmes debacle and this news, I totally imagine Tom Cruise with a
Teen People
subscription on a lazy Saturday, thumbing through it for girlfriends, casting possibilities, etc.
THE DAY AFTER UPDATE: MISS LOHAN CONFIRMS I'M NOT CRAZY!!!
THE DAY AFTER DAY AFTER UPDATE:
Page Six
, who gets the date wrong,
and
many
others
"break"
the news.