looking back at the friday the 13th video game...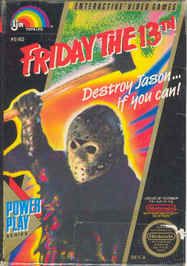 I must have been a huge vagina as a kid.
I remember the 8-bit Nintendo
Friday the 13th
game as being scary. I would play it in the dark late at night when I was supposed to be already asleep. Usually on a school night. When my eyes got tired from watching the scrambled Skinemax.
But,
playing it today
, it might be one of the worst video games of all time.
I thought Jason was in this game. But apparently it's all about finding magic potions and throwing rocks at zombies. What a crock. I really feel for the people that probably paid $40 for this game back in 1990, hoping for some
Contra
vs. Jason action, and got this instead.
Hindsight can really suck sometimes.
Related: "Wild Thing" and "Funky Cold Medina" by Tone Loc are the same freakin' song. It really pains me to write that.