this playhouse was a bad choice...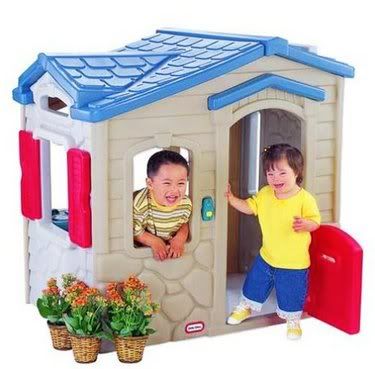 This playhouse was a bad choice.
Dammit, I'm such an idiot. I thought to myself, hey, property values in the Los Angeles area are skyrocketing. I might as well cash in a few chips and buy something small, you know, comfortable. Just for the time being while I plan out my next move. But this is ridiculous.
Look at my girlfriend. What a fakeass smile. She hates it too. I just know it. She might even dump me. I am so not even getting a kiss on the cheek before she goes home for naptime today. You know what? Screw her. I've got this cool new Bugle Boy shirt on and I will flaunt it. I'm too young to settle down anyways. Sow my oats!
Holy shit, I think I'm stuck in this window. Is it even a window? It doesn't even have shutters like that window right there. What a sham. I guess I'll just have to stand her stuck and smile. I shouldn't let her know that I'm depressed. Happy. Think happy thoughts. Ughhhhhhhh. Still stuck, though.
I am so not watering those flowers. I am telling you that right now.
Whose bright idea was it to put a doorbell on this thing? Thanks a lot. Because I wouldn't want anyone to sneak up on me, you know, in my house that I can't even properly stand up in or fully shut the door. Jesus. I might just start crying. And if I do, it's not because I'm a baby. It's because I'm hungry and I want my mom. Ughhhhhhhhh...nope. Still stuck.