an open letter to abc concerning nick and jessica's tour of duty...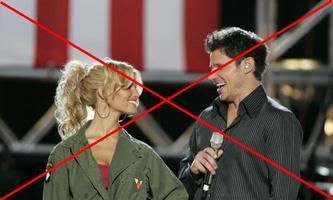 Dear ABC,
Sorry, but there is no way in hell I am watching your upcoming super-special
Nick and Jessica's Tour of Duty
.
I wish I could say that I'm afraid. Afraid that maybe,
just maybe
, I might watch the show and get totally wrapped up in Nick and Jessica's overwhelming love for each other.
Look! It's bursting out! Their love! All over each other and all over those poor military men and women's faces! Love everywhere!! Can't you see it! Let's revel in it!
No thanks. Why would I want to get all caught up in that? It's like that time that someone tricked me into watching
Dead Man Walking
. I watched it, got all emotional about Sean Penn and his trials and tribulations...then he died. Nooooo!!! If I invest the emotions, there needs to be some kind of happy ending. If I wanted to watch real life, I would have rented a documentary. I want Sean Penn either
digging out of prison with a spoon
or
inexplicably dressing up like a woman to sneak out past the guards
. And then, once he's out, I want a big song and dance routine with rainbows and kittens and stories about childhood.
But, I digress. As you can see, I've seen through your shenanigans. Nick and Jessica are just going to officially break up after this special airs. It's written in a contract somewhere in your contract department in a contract drawer that they must keep up the happy front for good PR. Well, you know what?
PR can ruin lives
. Stick that on
your happy website
.
Sendcelery,
Me