rest in peace, mr. o.c. character i didn't particularly care for...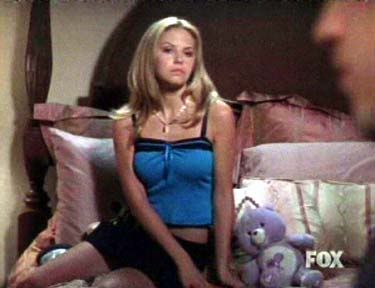 "Soooo...Ryan, do you want this Care Bear's sloppy seconds or what??"
Best parts of last night's episode of The O.C.:
The death of a major character. Good job FOX. Nice to see you listening
The whole idea of an Under the O.C. dance
That Coldplay song
George Lucas's non-verbal acting
The one scene with ThatWhore, who as Ron Burgundy would say, "needs to go back to Whore Island." She either needs to continue screwing the entire cast or fade away into Minorcharacterland.
That Coors Lite commercial (see below)
Has anyone seen these Silver Bullet "
plastic bottle cooler boxes
" in stores yet?? On the "Man I Should Have Thought Of That Meter," this rates a solid 9.5. I don't know if it's going to revolutionize the beer industry, but it's definitely going to score points with the extremely lazy crowd. Maybe I'm the only one that caught this??