ten things i think i think about last night's lost finale...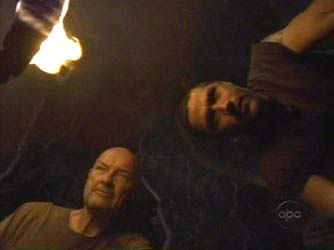 I have never been happier than I was after Bill Nye the Science Guy exploded. Most annoying character ever.
Does anyone remember how freakin' mean Locke was in
The Stepfather
? If they're going to survive next season, he's going to have to bring some of that back.
Jack, on the other hand, is
still an asshole
.
If Hurley died, would a miracle land bridge just appear?
I get happy inside when I see scenes like the one where Sayid said, "Okay...I don't know you, you or you. But go to the caves and be very very quiet or you'll end up like Bill Nye the Science Guy."
Are there really
graboids
on the island? And if so, does that count in the
Six Degrees of Kevin Bacon Game
because that would open up a lot of opportunities??
Why did
Floppy Wang Guy
from
Sideways
have to kidnap Walt? I'm going to have some serious nightmares because of that all summer long.
I never knew throwing a big flashlight onto a raft would make it explode like that.
When Michael was all sobbing over Walt being stolen and the Asian Guy was possibly saving Sawyer, is it wrong that all I kept thinking was, "I hope that nice watch he gave him is waterproof."
Claire should have named her baby "Driveshaft." It would have been the right thing to do.