beaches: not-very-special edition...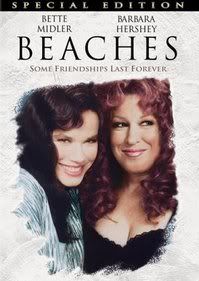 There's not enough special features in the world to make me want to buy the
Beaches:Special Edition
DVD.
The fact that it even exists just makes me sick in the stomach. Seriously...huh?? Is there a secret underground
Beaches
fan club that has been clamoring for this? They'll make a special edition of this atrocity but we can't get special editions of
Just One of the Guys
,
Monster Squad
or
Rad
?? Hell, the last two don't even have their first editions yet. Get on it, DVD making people!! Maybe the solution to this DVD's actual
being
is in its extras:
A French subtitle option
- Not bon. Not bon at all.
Commentary by Gary Marshall
- Unless it's a 123-minute apology, this is totally useless.
"Wind Beneath My Wings" music video
- Has there ever been a documented death by DVD extra?
Segment from "AFI's 1000 Years...100 Songs" with Bette Midler
- That's way too many numbers followed by Bette Midler's name.
Blooper Reel
- Hahaha. She really didn't die. She's alive. Cancer is HILARIOUS!!!

Mayim Bialik Remembers
- I'm so happy for her.
In conclusion, the DVD is still not worth being a coaster. Or even the coaster to another coaster underneath it just in case the first coaster gets too moist. If someone buys this as a joke birthday gift for me, I will immediately launch it directly at their face.