larry king: still decidedly not a movie critic...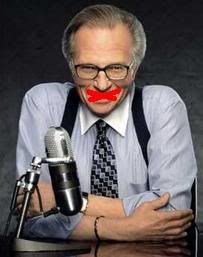 Sometimes I wish I was as excitable as Larry King is about everything.
King's latest love arrows are pointed at Ron Howard's latest,
Cinderella Man
. Does it look like it might be a good movie? Maybe. Am I friggin' skydiving into the multiplex with LK-like gobbly-goopish excitement? No.
You're probably seen the
CM
trailer with King's pullquote. You probably didn't know it was his. But it went something like this:
"This is not only the best movie of the year. (dramatic pause) This is one of the best movies ever."
When I first heard it, I was kinda surprised. Then I was, like, "This guy is bananas." Thereafter, I started to miss
Norm MacDonald's impersonations
. Now, I think maybe he doesn't even watch these movies. Every day, on his regular ride via gurney from his bed to the
Larry King Live
set, someone comes up to him with a bunch of photos. Photos from movies, TV shows, infomercials, barnyard animals, Hot or Not.com, etc. Being really really old/senile, he just points at each photo and says, "That is one of the best _____ ever." And so it's printed.
I'm 100% confident in this thought. As proof, I just saw this on his website:
"That is the best picture of a squirrel humping a watermelon while balancing a salad plate on his head I have ever seen." ~ Larry King.