today's sheer dress report...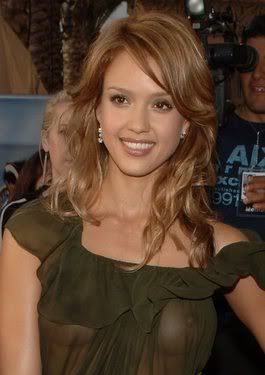 Since I keep getting reminders and she is my sometimes-girlfriend, I am forced to explain my side of the story.
Of course I knew it was friggin' sheer. Duh. I
am
a guy.
Soooo...
The Pre-MTV Awards Conversation Between J'Alba and I (As I Remember It)Alba:
Are you sure it's not too sheer??
(Yep, very sheer. Ultra-sheer. Full 3-D nipplitis.)
Me:
Positive.
Alba:
Are you sure you're sure? Because if you're not positively sure that you're sure, I don't want to risk it. This is my career we're talking about. I went through all that trouble making sure I didn't show my breasts in
Sin City
. It would be pretty weird to show them on national TV like this.
Me:
I'm sorry. Were you saying something?
Alba:
Were you not even listening??
Me:
Uhhhhhhhhh...
(No. But I was thinking, "Thank you Lord for this wonderful wonderful day.")
Alba:
Justin!! We're talking about my boobages!! Pay attention. (looking in mirror) You're lying. I swear I see a nipple.
Me:
You're going insane. I see no nipples. Maybe the edge of an areola. Maybe the promise of a nipple. But no nipple. That dress is nipple-proof. I thus deem it so with my nipple-proof stamp of approval.
(I was lying. There was no stamp.)
Alba:
Sheez. I'm so relieved. Should we take some pre-party shots?
(This is the point at which I stood up and did the wave, in my head)
Me:
YES! I will get my camera.
Alba:
I mean liquor shots.
Me:
YES! Many shots! Shots o plenty. Let me get my camera.
Related:
Brittany Murphy Tries to See Jessica Alba's Boob
Jessica Alba and I Come Full Circle (But Not Really)