vanna white: old and obsolete...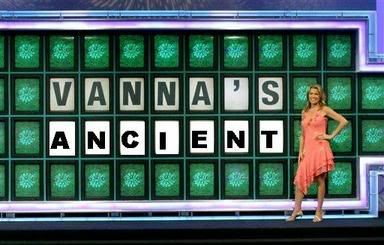 Game shows often make me sad.
I remember watching
Win Lose or Draw
as a kid and having severe anxiety empathy for all involved. How the hell do you draw
The Battle of Bighorn
with the option of only four freakin' colors?? And
Press Your Luck
?? No Whammy? How about 'Yes Whammy,' Mr. Negativity? How about Whammy needs to have some self-worth about himself? Give him a home. Stop being so damn selfish!
But worst on the sadness scale, by far, is
Wheel of Fortune
. Have you
actually
sat down and watched it lately? It's excrutiating. Every night, before the show, it seems like Pat Sajak spins Vanna on the "sadness merry-go-round" before they go out. She's just a shell of the Hot Vanna of yester-year. And she's been spinning those things since 1982. What else is she supposed to do? There's not a
Super Wheel of Fortune
for her to aspire to. She's not qualified for anything other than spinning things. Heck, she's not even spinning anymore. She's touching the letters. Touch-ing. That's it. No wonder she looks so happy all the time.
But, you know, deep inside...deep deep deep inside...she's got to hate it. She's old. She's bitter. But mainly, she's scared. Scared that she's obsolete and she's just waiting for Sajak to shiv her in the back during a bonus round. Her body will be quickly shoved offstage and a newer, shinier, kinda-less robotic Vanna will take her place. That's how it always happens with game shows. Look at
Family Feud
. Or don't. That's the main lesson.
Fortunately, for the senior citizens of America, the show will go on. But the sadness will remain. Because the real Vanna probably had some young Vanna Jr.'s at home that she was pruning to take her place. "You will get no breakfast, lunch or dinner tomorrow if you don't do your vowel spinning lessons before bedtime!! I mean it! Don't make me get the Bankrupt card off our home edition of
Wheel of Fortune
and beat you with it," she probably yelled. I think of this and that's when I start to get sad. Because if Vanna is really offed by Sajak someday, those lessons will be all for naught. And those poor kids will be in the same predicament as their mother. No job and only one skill: letter-spinning. See. I told you. Sad.