the michael jackson molestation trial children's choir...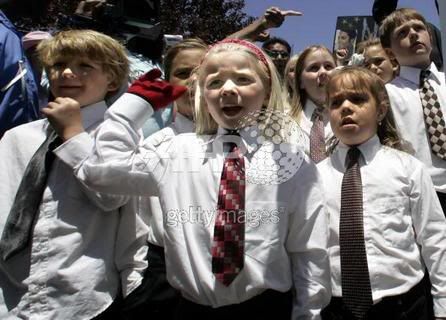 Funny ha ha people.
Bring the
children
to the
child molestation trial
. Let the
possibly innocent/guilty
Michael see the kids as they sing their songs of hope and it will, in effect, give him hope. I'm not buying it. I'm also not digging the fact that you dressed them
all
up like little Fisher Price businessmen. So wrong. And you can tell. Especially since this picture is worth a thousand words:
The front right girl has the "I Hope These Earrings Fool Him" look on her face.
The poor boy on the left is seriously giving thought to firing his parents.
And the kid on the top right is just plain P.O.'ed that his tie isn't long enough to hang himself with.
Related:
MJ Supporters Taunt Photographers
The Michael Jackson Stare-Down