die hard 4: bunny stew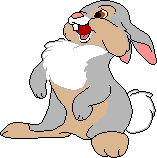 I once had a bunny.
He pooped a lot in his cage. He didn't talk to me, sing me cheery songs or thump his legs in a loving way that would make me giggle.
And he wasn't that cute.
After that, I didn't particularly care for bunnies.
But
this is ridiculous
.