toilet paper conspiracies...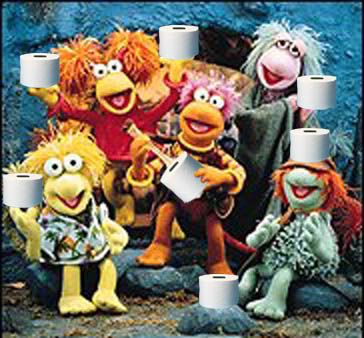 One thing about living in the real world: there's never enough TP.
First I thought that it was a TP industry conspiracy against me. Seriously. You know when you get a fresh TP roll and you have to break the perforation to start it? Well...when I have to do that, I swear that the TP company rigs the roll that when I break the plys (or is it plies), my Popeye-strength fingers pulls off double the plys it's supposed to. So that means I'm using twice the amount of TP usually allotted. I'm sad and the TP dictator in his white ivory TP tower laughs at me from above. I try to explain this problem, in words, and people look at me with blank stares. So I know none of this paragraph makes sense.
But I'm over that. But not happy. Now I believe I have TP gnomes that creep through the air vents like the Fraggles. After they rob me of my TP happiness, they go back to Fraggle/gnome world to toss around the rolls like Koosh balls and play bad, but alluring, junkyard band music.