kiley the dog: photo caption writer...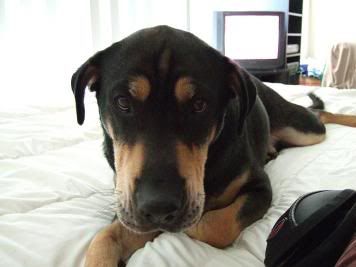 Do you ever notice the dog lazily lounging around your place and you suddenly look at him/her and say, "Dude, you're not pulling your weight. You need to hit the pavement and find a job. This Alpo isn't buying itself."
And they usually look at you like, "What? I'm a dog."
Well, Kiley didn't say that. Kiley went into this long diatribe about how he's been mulling over job offers but what he really wants to do,
his dream dog job
, is to someday be the head caption writer for Getty Images. So, not one to step in the way of a dog's dream, I went to Target, bought him a Speak 'N Spell and dutifully accepted the position of transcribing his personal captions he had typed out with his little doggy nose. We should be sending the following captions to Mr. Getty soon. Enjoy.
NY Fashion Week celebrates "Bring A Midget To Work Day"
Anthony Hopkins laughs at gay joke, then kills joke teller
Eva Longoria: Thisclose to having hot sweaty plant sex (for publicity, of course)
The exact second 2-year-old Sue started to hate everything at Disneyland
Inexplicably, Venus Williams seems to be pregnant with an clothing iron
Paris Hilton: too busy trying to show her nipple to notice that Kelly Osbourne stole a four-year-old's only warm pair of mittens
Star Jones: excited at finally not being the fatter one in a photo
Someone tells Jake Gyllenhaal that Anthony Hopkins killed someone for telling a gay joke, he laughs and says, "Hey, look at my cool beard"