tropicana bar decides to let anyone in...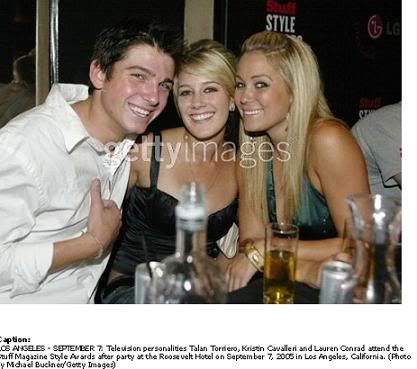 Thank you cast of "Laguna Beach." I've been staying up late nights racking my brain trying to figure out how on Earth I was ever going to get into the ultra-exclusive
Tropicana Bar
a mere three blocks from my apartment at the Roosevelt Hotel. Should I dress really flashy? Should I parachute in? Can I just buy the place? Do I have to work there? Is it all worth it?
The simple answer? Apparently, I just need to start being undeniably boring in every single thing that I do, hope MTV notices and decides to start filming me with feature-film like photography. Then, and just then, will I become a "television personality" and get the invite.
BTW, wouldn't it be weird if you were Brad Pitt or something, lounging at the Tropicana enjoying its ultra-exclusiveness, when you looked over and saw Talan mumbling to Kristin about how Stephen is coming home for the 45th time this semester? That would ruin the whole mystique right?? In a way, it kinda would be like if Motley Crue was chugging whiskey and blowing lines off of strippers at the Rainbow back in the 80's only to look over and see Wheels and Spike from "Degrassi Junior High" chillin' in the next booth giving them the thumbs up. I know even I'd be freaked out by that. And I
loved
those dudes.
Related:
Hilary Duff is Totally Freaked Out By Squirrels