hilary duff is totally freaked out by squirrels (and, in effect, drinking)...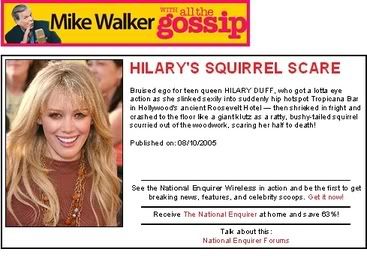 I have to finally tip my hat to Amanda Scheer Demme and her Hollywood hotspot,
The Tropicana Bar
, on this one. A
writeup
in the
LA Times
is good. A spot on
Defamer
's watchlist is even better. But nothing screams publicity stunt like the employment of undercover squirrels to scare underage actresses away from drinking. That is classic.
BTW, Hilary Duff has never "slinked sexily" anywhere. "Toddled frivolously," maybe. "Ambled awkwardly," most likely. But never "slinked sexily." Girls that look like they're built with Legos do not do that.
Hilary's Squirrel Scare
[National Enquirer]
Tags:

Hilary Duff
Tropicana Bar
squirrels