i would rather ferry lost souls across the river styx for eternity than be set up with this girl from abc's hooking up...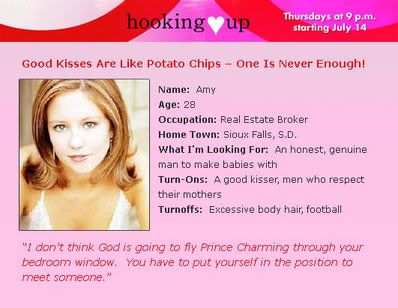 I am not crazy. This can actually be found on her
personal webpage
from the show (which I fully admit it's weird that I watch but it's like trying to turn away from a train wreck full of clowns):
Amy has a few simple requirements for her prospective daters: you are "single / a non-smoker / have graduated college / live alone / like animals / are not overweight / are confident / do not live with your mother / are professionally employed / don't own any video games / don't drink beer on a daily basis / don't spend sunny days watching sports / go to sleep at a reasonable hour / are a morning person / don't listen to rap music / don't have bad breath / are taller than 5'6" / are funny / polite / attractive / straight / and willing to take me out this Thursday afternoon!"
To quote
Phil Connors
, "This is a guy we're talking about, right?" If I was stuck for life on a desert island (as in
Blue Lagoon
) with this girl, there would be no choice as to my life's direction. I would instantly start walking into the ocean until A) I drowned or B) I magically grew gills and fins. No doubt in my mind. She is that bad. I hope I never see her on the street.
Tags:

Hooking Up
online dating
TV