not to sound juvenile, but we can almost see britney's hoo-hahs and her uh huh...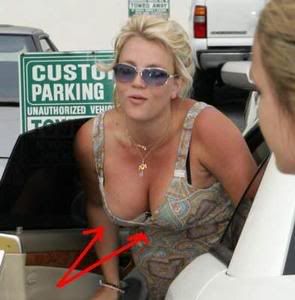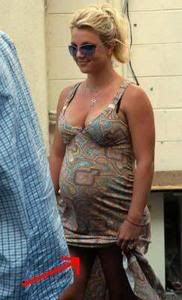 The closer Britney Spears gets to the end of her pregnancy, the closer I believe she gets to showing us the whole shebangabang. By the looks of it, it's gonna happen. And it might happen in a Starbucks parking lot or bathroom, which is alternately gross and sexy. Her breasts seem to be bulgating and she needs air flowage for her uh-huh because her designer-made maternity wear is very constrictive. Usually I have a solid line drawn in the sand concerning pregnant women and pornography, but I could be swayed to change it to a solid line/dotted line (allowing for certain passers)...but only for Britney. And only because of that very hot "I'm A Slave 4 U" music video. I'm serious. Other pregnant women wanting to flaunt their burgeoning motherhood in a naked state should stay back. That means you, Heidi Klum. Get out of my face.
p.s. Everyone should check out
The Gossipist
!! All I can tell you is that, for some reason, they let me in. Oh screw it...soooo it's a club, there's a secret handshake, vacation, some medical benefits, a 401K plan and they give you a scratch 'n sniff sticker if you're really cool. Why would you deny yourself scratch 'n stickers??