that new highland avenue poster: hopefully not just like heaven...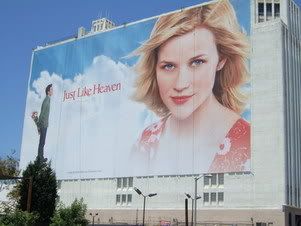 My idea of heaven definitely
does not
include GIGANTIC Reese Witherspoons. Never has. Never will. Frankly, the pure thought of it terrifies the hell out of me.
And remembering this
classic Reese Witherspoon story
, it'd probably terrify Kevin Smith as well. As well that it should.
BTW, who do you think the main star of this movie is? I can't quite tell...