if the pope laments in the forest, will he make a sound...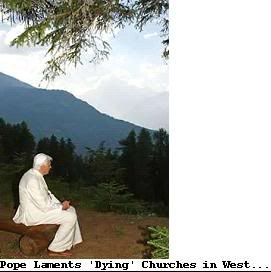 Photog:
"Mr. Pope, Sir. Could you please sit facing more towards the trees?"
Pope:
"There's trees everywhere. We're in a forest in the mountains."
Photog:
"Okay. Towards the trees more down the hill then?"
Pope:
"This log bench is terrible."
Photog:
"It's all we had to go with. Please continue lamenting."
Pope:
"I'm trying. I'm trying. Is this good?"
Photog:
"I'm getting more 'reminiscing' than 'lamenting.' I need sadness."
Pope:
"Should I be pointing West? Will people know I'm lamenting in that direction?"
Photog:
"No pointing. But maybe you should arch your head more that way."
Pope:
"Just take the picture. I think they'll get it."
(via Drudge Report)