nicole richie: thinking seriously about eating kittens...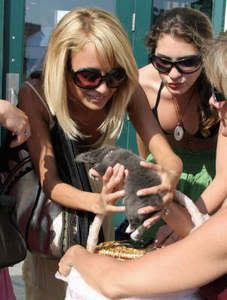 "Must not eat kitty...must not eat kitty...keep it together Nicole...must not eat kitty...but it's so soft and one-serving-like!!"
Actresses often are extremely insecure people. So it's no surprise that you don't see a lot of them owning cats or kittens. Little foofy dogs are much more suitable for giving them the constant attention that they so desperately crave at all hours. But the dark alternative is that sometimes "actresses" crave fresh pet adoration meat. Cut to these dog-loving "actresses" running into cat-loving owners holding their little kittens on the street. They go over, pick them up expecting dog-like affection and get so enraged over a kitten's uncaring attitude that they'll think seriously about eating it. Did this kitten survive? We may never know.
I used to run into Nicole Richie a lot when I'd go to Toast (pre-
Scary Big Gulp Lady
). I once even saw her get into an intense staring match with her salad as I imagined her adoptive father, Lionel, remaking the song "Sail On," if only for the fact that he could cast her in the music video as the sails on his boat. Just strap her up there and let it blow. Sail on. I know I'd watch it.