carson daly knows that we know that his fifteen minutes are up...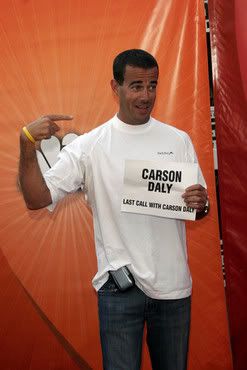 What a trainwreck! Someone's still paying Carson Daly to do things?? And to think he used to date Jennifer Love Hewitt and Tara Reid! Now he's got a show on-air during the graveyard shift when most people would rather just watch clips of the American flag with the Star Spangled Banner playing in the background. Terrible. At least MTV is still employing John Norris. If they ever fire him from doing his unintelligibly bad news bits, he'll probably just fade away into a ball of dust particles. He's pretty old. He's got to be at least pushing 60 by now.
But back to Carson Daly...what is up with this dude's head? Never mind him being skinnier. His head is continually getting smaller and more squished together. That can't be safe, medically or professionally. I haven't seen the
Beetlejuice
guy get work in years.