jemima and hugh grant: a satirical love story...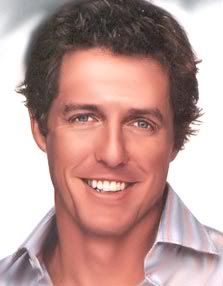 Aunt Jemima says she doesn't want to marry lover Hugh Grant... yet.
The gleeful pancake heiress rebuffed the actor's offer of marriage last month, according to the Daily Mail. Mum-of-two Jemima says she is simply not ready to be whisked down the aisle again - after her nine-year marriage to Egypt's King Ihop.
"I want to destroy the ugly racial stereotype that has been established over the years before I settle down. Jemima is about more than pancakes, people. We also make great coffee cake," she said. "Just kidding. I have lots of things in the works."
In the next year, Jemima will unveil a new clothing line, a magazine, a reality show and might even make a bid for the White House. But Hugh, according to friends, is "hard up." He's desperate to settle down and is even rumoured to be prepared to give up his acting career for her, which sounds more like a threat than a promise.
A pal told the paper: "In Jemima, Hugh finally found a potential wife who couldn't possibly be after his money - after all, she is considerably wealthier than him. And happier too."
"He has always been afraid of gold-diggers. Unfortunately for Hugh she is still not over her marriage to Ihop. It was a claustrophobic marriage - she was forced to take daily trips by personal jet to each of his chain's international locations," said the friend." "All the location managers loved her. But they secretly despised Ihop because no pancake was fluffy enough for him, every egg was runny and the pigs in the blankets were 'not rolled up with enough love,' he would say."
Bridget Jones
hunk Hugh - who is set to star in new movie
American Dreamz
- got together with Jemima last year. They met at Los Angeles's ultra-exclusive Spider Club. Jemima is ALWAYS there on Fridays, strutting her stuff.
Grant previously dated Liz Hurley for seven years before they split. Jemima reportedly stormed out of Sir Elton John's White Tie and Tiara charity bash last month when Liz flirted with Hugh - even sucking his fingers seductively in front of guests.
"I will cook her for breakfast," Jemima said. "Actually, don't print that."
See: Jemima Turns Down Hugh's Request