when laundry day falls on premiere day...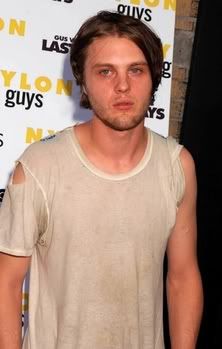 Conversation Between Michael Pitt and His "Friend" Two Hours Before His Picture Was Taken At The Big Premiere For Last DaysFriend:
Dude. Your premiere's today!
Michael:
Ahhhh snap. The hamper's full. What am I to do?
Friend:
Just go buy a shirt, man. Hollywood Boulevard has 5 for 10 bucks.
Michael:
Noooo man. That is so not punk rock.
Friend:
You should go topless. That would be cool.
Michael:
It gets kind of chilly at night though.
Friend:
Whatever man. Do what you need to do.
Michael:
How about this?
Friend:
We just used that to dust yesterday. It's a rag.
Michael:
This isn't a rag. It's a fashion statement.
Friend:
You should tear a little hole on one sleeve!!
Michael:
And roll up the other!! I was just thinking that!!
Friend:
You're going to be a huge hit!!
Michael:
I know! I know! Can I borrow some of your facial moisturizer?
Friend:
Truthfully, you look fantastic. Best I've ever seen you.
Michael:
This is exciting. I can't wait. I'm on my way. Toodles.
Let this be a lesson to young stars everywhere. Friends don't let friends wear dust rags to their premieres. Never ever never ever. Just no.