the gangs of souplantation (a true story)...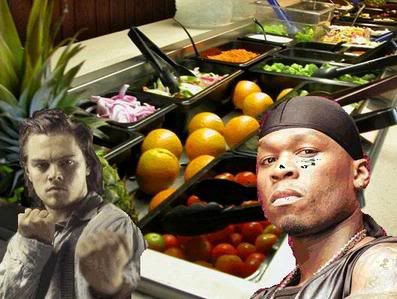 There are two things that really eek me out: flying squirrels (seriously, they're like flying rats that jump from trees and want to claw your face out) and
Souplantation
. The squirrels thing evolved from a freak childhood incident that I still can't expound upon today. But my feelings about Souplantation only took a sharp crashing turn towards Negativetown after I visited the location near the Beverly Center for a quick bite a few nights ago. Needless to say, I barely made it out alive. Yes. Let this next sentence just simmer a bit, jaded Souplantation-lover:
Souplanation is a burgeoning center of gang activity.
You might label me an instant liar or call me crazy. I know. It sounds illogical. But it's 110% true. You just had to be there. I was standing in the soup line, the one which regular Souplantationers know is sectioned off from the salad line, when it happened. A really built white guy with several tattoos reminiscent of Edward Norton in
American History X
came up and got all up in my grill:
Hey, man. Do you know where you are? I don't think you do. This is the soup bar line. You're on my turf now. You better back away, Tall Boy.
Needless to say, I didn't want to go down like a "punk bitch." But, also, the possibility of dying next to a buffet bar would not only be gratuitously horrible. It would dishonor my entire buffet-averting family. So I dropped my bowl immediately and started to inch closer to the frozen yogurt line. But you'll ruin your dinner, my inner voice said! Who cares. This is my life we're talking about. Maybe I'll just munch on a gummi bear or two. That won't be
too
bad for me, right? When all of a sudden, another voice broke through the carb-munching haze:
Dude. Are you loco? Are you actually going to take that?
Am I in the freakin' "Beat It" video, I instantly thought. Because this new guy in front of me was looking exactly like the one with the unnecessarily big glasses from the Michael Jackson classic. And he was holding a salad plate that was about 2% lettuce and 98% cheese. This dude, although his colon didn't appreciate it, wasn't jerking around:
I'm Dan87. Leader of the Salad Posse. For a price, we can offer your protection from the oppressive gang of soup-lovers which you have already personally had the displeasure of meeting. And, by the way, you shouldn't eat those gummi bears. They take your body almost four days to digest.
So what did I do? What did I do? I went over and sat with the Salad Posse, of course. My momma didn't raise no fool. And let me tell you. What they told me was mindblowing. A full-fledged gang war is being fought across the entire nation right under our noses in our local Souplantations and we have no idea.
Those glass shields that hang over the respective bars that we all thought were to keep people from coughing on the food? Sorry. They actually were implemented after a Soup Posse gang member was popped over stealing some cheese from the salad bar to put on his chili. No one wants oozy brain matter splurting all over their iceberg, you know?? Not only that, it also explains why there seems to be a constantly rotating employee door in the place. Would you want to work there? Seriously? Chili's is ghetto but it's not Ghetto.
And that leads us to the pizza issue. Salad, soup, pasta, frozen yogurt? Would it kill to see some personal pan or something up in this piece?? Apparently it would AND did. Yes, back in the day, Souplantation used to have an tantalizing array of hot pizza on their buffet bars. That was until the gangs started using the toppings to covertly recruit new gang members. You really had to keep your eyes open. Examples: Pepperoni and pineapple, thin crust? You're in a Soup Posse hotbed and you better prove yourself by dumping some chicken noodle on your head. Anchovies and bacon, regular crust? Dude, Take as much pasta salad and dump it down your pants and run out the door. You'll be contacted by the Salad Posse if you were fast enough.
Needless to say, I hope everyone understands why I won't step foot in a Souplantation again. I feel as if this blog is my "trust tree" and I can say anything. That includes clueing in everyone about the problems you might face if you go for your personal carb fix. Just know that there's always a chance it could be your last.