your hotel sucks, trump's hotel rules...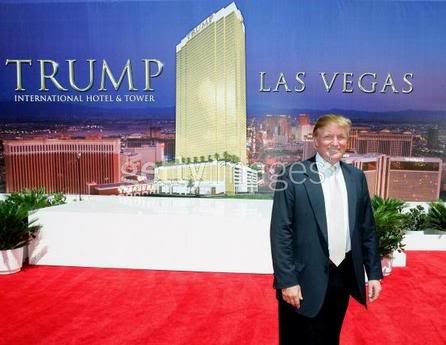 Hey guys, Donald Trump here. I'm here to unveil plans for my new Las Vegas hotel, aptly named Trump. As you can see, a picture drawn to scale is over my right shoulder. It's going to be the biggest hotel ever made. Bigger than Jesus if he decided he wanted a hotel. I literally took the biggest hotel in the world and added 100 more floors. But I didn't stop there. Oh no.

The hotel's going to be made of solid gold and it's going to shine like a beacon over the entire universe. Aliens will be able to see it through a black hole from their alternate dimension. They'll point and be like, "Eeep beep burple geep Trump Hotel." And they'll take a portal or something to check it out. That's how bright this sucker is going to be. You'll probably have to look at it with special glasses. Or risk burning your eyeballs. It's going to change the way birds fly. It might even break through the ozone. I don't even know how far up the ozone is. But I'll have someone find out and I'll make Trump Hotel that high--and then go higher.

The casino in the Trump Hotel will be 10-star. That means it will be twice as awesome as the next-possible Vegas casino on the Strip. It will probably be so embarassing that other casinos might even quit the Casino Union and secede from their respected hotels, just so they can amble down the Strip and hang out with my casino. It will be that cool.

And don't even start talking about pools. There's not only going to be about 20 Olympic-size pools outside. There's going to be pools in every room AND pools in the hallways. The entire hotel will be like one big lazy river. You'll be able to waterslide down from floor to floor. And there won't be any actual walls in the hotel. The divisions between rooms will all be gigantic aquariums. Big ones with huge dolphins, sharks and monster-looking fish you only see in movies. And they'll all talk and sing to you like in that little mermaid movie. I'm even thinking about putting a gigantic waterfall that will cascade from the roof down each side of the hotel, splashing lesser hotels with its brilliance. Also, all water used in the hotel and its pools will be Trump Ice. Which means you'll be able to swim in it and open your mouth and not worry.

The spa in Trump Hotel will be a virtual Garden of Eden. As the lady guests are getting their backs rubbed, faces massaged and delicate parts seaweed-wrapped, I will have supermodels walking about the spa in the nude. Brushing up against them will be part of the "spa experience" and on special days we'll have them participating in exclusive supermodel-hotel-guest-events. Like Backgammon. Or Spin the Bottle. If you enjoy their company, I will sell them to you and ship them to your home at no cost.

And guys, you want girls? I have girls. Girls will flock from miles around from all different countries (even the smaller African ones in which the women have never seen a hotel, a pool or another human) to lazy-river around the halls of Trump Hotel wearing nothing. And they will all be at my beck and call to feed me grapes, color me pictures or marry me, at will. Male guests will be allowed to look at them and take pictures. And there will be a drawing every hour on the hour for one lucky guy to be my personal Best Friend for that hour. But just that hour. I have more amenities to plan and invent.