toast and scary big gulp lady...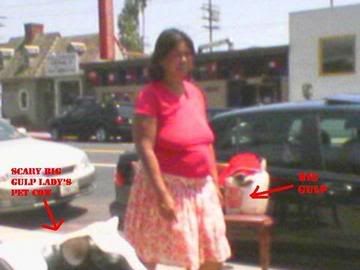 I want to go on the record and say that
THIS STORY
is 100% scary truth!!! And it's a
must read
if you're from LA and have ever been to the
popular lunch spot Toast
. It's mostly meant as a warning that terrifying moments like this
can
happen at whichever lunching spot you may choose in the greater Los Angeles area.
The only thing I can add is that Scary Big Gulp Lady had no regard
at all
for me or my friend's personal space. After the said flashing incident, she proceeded to come about six inches away from my face and pet the ceramic-looking cow that is shown in the picture. She continued laughing with glee while I closed my eyes and counted to ten, just hoping and praying for the Toast seat buzzer thing to sound.
Seriously. Scariest Trendy LA Lunch Experience Ever.