terrorism not phat...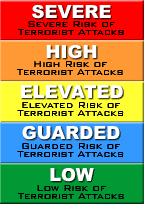 What a perfect day to fly back to Los Angeles! The terror alert level is at orange, there's hurricanes a comin' AND we're currently under a tornado watch. That coupled with the fact that I just ate Mexican and hate flying with a PASSION makes this the most enjoyable experience of all time.
Hopefully, I'll be back to posting tomorrow about things that don't include me possibly dying. Until then, here is a picture of me riding an imaginary airline I will just call "Air Unicorn." Because unicorns are awesome and they don't make you wear a seatbelt. Or make you turn off your cell phone. Or take away your only in-flight snack. AND they'll drop you off ON your house. Seriously, think about it, unicorns. Start a union.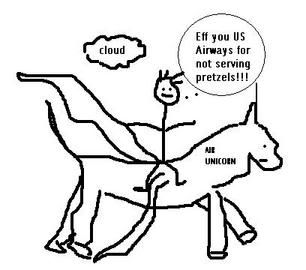 p.s. I'm so happy that my throwaway entry about trying to post from my grandmother's computer finally pushed me into "racist" and "politically incorrect" territory. I tried to think of a unicorn joke to appease both camps but I'm stumped. Sorry Anonymous.