dear brooke shields...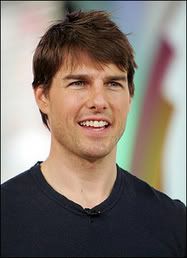 Dear Brooke Shields,
Tom Cruise here. I just read
your editorial
in the NY Times. I would have written you earlier but I'd been too busy counting my ginormous amounts of money to take the time to dictate this letter to my 4th assistant, so that he in turn can write it using only a paintbrush and his mouth. His portrait of a duck operating a tractor will also accompany this letter. But back to you. Man, you're a bit of a cry baby. Should you be taking cry baby pills, like, now? Do they even have those? Cry baby vitamins? Maybe. I don't know.
As for your claim that I've never suffered from postpartum depression, I've got just one response. YOU'RE OBVIOUSLY MENTALLY IMPAIRED. Of course I've never "suffered" from that imaginary disease. From what I've read in my plethora of psychiatry books (which btw take up a large portion of the Tom Cruise Complex), postpartum depression only affects recently pregnant women. Number one, I'm not pregnant. Sorry. Even if I was, it's none of your business. I'd probably just have one of my assistants have the baby. But I'm also not a woman. So, again, it just wouldn't work out.
So, yeah. If you're going to attack me, I'd appreciate it if you do it with more supported facts. I understand you're just sitting around (in London??) waiting for me to do something so you can get mad, cry a little bit and come back with a response. But you should really think about it first. Write it down. Or at least do it up in a pretty Powerpoint presentation. As Tom Cruise, I just don't have the time for reading newspapers. Again, too busy counting money.
Sincerely,
Tom Cruise