lock, stock and two magic bullets...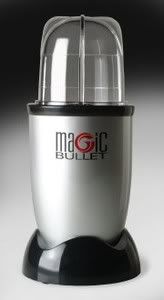 Dear Magic Bullet Infomercial,
I love you. I know it might be too soon. But I do. I love you more than a person should legally love an infomercial. People talk about our love and say that it will never last. I just look at them, give them a knowing glance and say, "It does
any
job in ten seconds. Step to
that
."
I even wrote about our love in today's issue of SMRT-TV
. I'm hoping everyone will read it with understanding and appreciate that what we have...is true. Truer than raindrops, roses, whiskers on kittens, etc. It's a Sade type of love.
Love and dicing capabilities,
Me