come fly the slutty skies...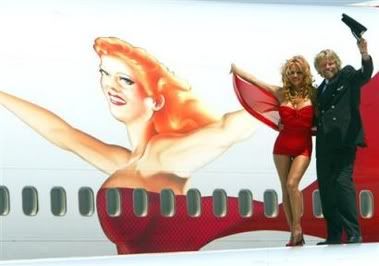 I'd only fly in this plane if I could be the nipple.
Virgin Atlantic
is finally old enough to drink today. Yay. Richard Branson celebrated by paying Pamela Anderson exclusively in Sacagawea coins to stand on the wing with him for 21 sexy seconds in order to possibly fool future flyers into thinking, "Hey, maybe all the Virgin flight attendants look like that...and wear that...and are virgins. (sigh)"
Did you think they painted all the airplanes with this chick? That's pretty hot. Not worth every friggin' thing in Virgin Megastores being 50% over regular cost. But hot, nonetheless. BTW, I've been boycotting Virgin all-together since I was fifteen. At that age, my father brought home for me the worst gift imaginable after a weekend business trip: a Virgin shirt. Yep. Just the logo. With cruel and unusual expectations for me to wear it in public:
Me: "Are you serious?"
Dad: "What? What's the matter?"
Me: "No...all day long."
Update: Note to future billionaire self: hire Pam for all parties. I will never look at miniature airplanes the same way again.