that funky bunch movie...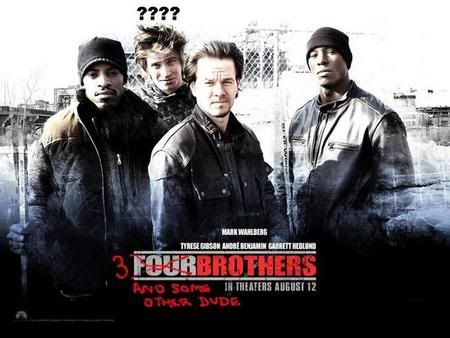 First of all, you have to feel for "the other dude." I don't know who the hell he is. He's probably been scouring the internet night after night since the shoot ended, chewing on Skittles and Googling
Four Brothers
. Now he's going to see this and he's going to write a comment like, "That's me, ass."
But
you know
he had to get hazed like a mofo while working on the movie. Marky Mark has just never seemed like he's a happy guy to me in real life. I always instantly associate him with his scenes when he suddenly becomes the coked-out asshole in
Boogie Nights
. Just very needy and demanding, the kind of guy that would yell at you if you screwed up just one section on a paint-by-number portrait of a horse. "WTF, DUDE!! AAHHHHhhhh...You're totally out of the Paint-By-Number Posse!!!"
On the other hand, Tyrese probably wasn't that bad. He seems like a smiley-face type of dude. Although I'm sure there was lots of "Hey, man. You saw
2 Fast 2 Furious
, right? Right?" To prevent any more confusion, someone needs to go ahead and invent
that thingee from The Fly
so we can finally meld him and Tyson Beckford into the perfect actor/rapper/model/toothpaste salespitch person. I can't be the only one who's thought of this.
I'm glad to see Andre 3000 getting work. Although Big Boi's work on
Chappelle's Show
has been top-notch. Living in LA and seeing all the struggling actors and actresses spending all their trust fund money just itching to catch a break, sometimes I think someone should just open more rapper workshops. If I was an actor, that's what I'd do. Screw everything else. Just be the best rapper I know I can be. Then, the big-time movie roles would surely come my way.