most awkward bridal shower ever...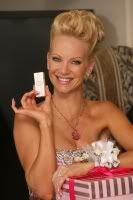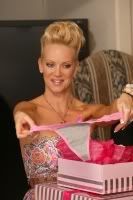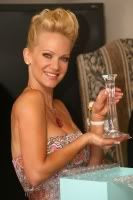 Just imagine.
It's a beautiful SoCal Saturday afternoon and you're looking forward to a nice normal bridal shower with one of your closest gal pals. You wrap your present all tight. You dress up classy but still a bit casual. You kiss your husband goodbye and say, "I'm going to Barbara's bridal shower, hon. I'll be back by dinnertime."
Then...you show up...and shit hits the fan from all angles.
The bride, whom mere commoners may know from her work as Casino Dealer in 1996's
Foxhunt
or Snow Cone Girl in 1995's
Beach House
, has also invited a member of the paparazzi and demanded that he take a minimum of 7,000 pictures of the shower (just in case all video cameras die of extinction in the near future and flip books are all humans have to reminisce over their most cherished events).
Seriously, without this esteemed photographer attending, we could not look back and think, "Man, that was a hell of a crazy bridal shower!! And not awkward in the least bit. Oh no." Let's take a look:
- "OMG. I'm so excited to be here...at...my own...bridal shower. Whoops! What a surprise to see you here, Mr. Cameraperson! Well, while you're here:
vogue, vogue, vogue, vogue, etc.
"
- Remember the bride
posing with those balloons
while everyone was wondering if the shower had, you know, any food/drinks?
- Or how about when she took a timeout to
tan her underarms
? That was completely...unexpected.
- "YAAAAAYYYY!!!
MY NON-CAUCASIAN FRIEND CAME
!!!"
-
Spin. Wash Self And Hands Of All Dignity. Repeat.
- Playboy Playmate + Window Blinds =
Award-Winning Naturalism
It really has to be
viewed completely
to be believed.