atta boy gramps...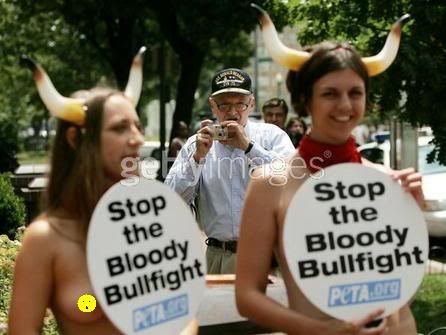 You know. I guess they're right. Senior citizens, although slow and dangerous behind the wheel, can still serve a purpose. ~Lloyd Christmas
Dang. It probably took Grandpa about six hours to get to this point. That is, if you start counting from the point he heard about
the D.C protest
on NPR. Then there was the showering, getting the falsies all white and bright, Old Spice slathering, the dusting-off of his
nice
hat, the 30 minute walk outside to the car, starting it up, driving, etc. It was like his own sad and final
Fellowship of the Ring
. Only alone. And with a digital camera.
And now these corny ass topless chicks won't even turn around.
How could PETA be so selfish??