the logistics of teen soap bed photography...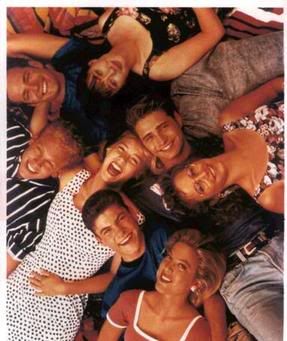 If I was ever cast on a primetime soap, I think I would do okay right up until the point in which we'd have to take the cast bed photo.
You know the one. Everyone's on the bed, fully clothed, and their arms, legs and heads are intricately put together like Lincoln Logs. Their arrangement in this erotic puzzle is usually symbolic in a way of the character's relationships with each other. You're on the entire other side of the bed from another character? You want to cut each other. Your head is on her crotch? As Madonna would sing, "That crotch will be your playground. It will be your priiide and joy."
Unfortunatly, I couldn't participate in such a group photo. Because I...am...a...cast bed photo logisticphobe. I mean, just think about it. The shoot probably takes a while to set up, right? What if you're on the inside and you have to go number one? You'd probably have to take a pee break, piss off the photographer by breaking up the flow and then you're regulated to "outside the circle status" where you're unsure where to put that "other hand." Do I put it behind my head, awkwardly by my side or should I flex a little to make everyone else who sees the photo afterwards jealous?? What if you're Jason Priestley and you have Gabrielle Carteris's head on your chest? Is it proper cast bed photo etiquette to say, "Gabs, could you maybe move your head down to my feet? You're thisclose to my face. And, let's be serious, this face
is
90210." And then there's the problem of the possibility of a major character getting killed off. Do you take a whole other picture and shake up the arrangement or do you erect a little memorial in his or her original location in the photo? What if there's a FRIGGIN' BABY? Babies definitely don't belong in cast bed photos. That's a whole other entry to itself.