another AFI entry for best worst movie...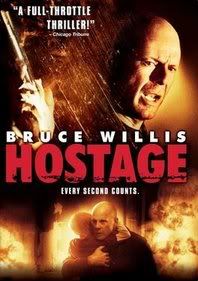 I watched the Bruce Willis movie
Hostage
yesterday.
If you haven't seen it, rent it. Put in at the top of your Netflix queue. Or get in your time machine and go back to watch it in the theater. Whatever. But you
must
see it. Not because it's a good movie. No. It actually falls into the terrible to slightly average range.
The reason why everyone must see the movie is because it contains the most out-of-place character performance since Bobcat Goldthwait in
Police Academy 3: Back in Training
. Once you watch it, you'll automatically know who and what I'm talking about. It's the teenage character of Mars played by actor
Ben Foster
of
Whatever It Takes
fame. Everytime he was on the screen, pulsating with intensity, I laughed out loud and started studying his mannerisms because, yes, I plan on being him for Halloween 2005. Just so I can say something like this if I were to walk up to a house expecting a mini-Crunch bar or two:
Unknowing Old Lady: "Aren't you a little too old to be out trick-or-treating?"
Me: (After staring at her for 10 straight minutes, using intense method acting skills of imagining this old lady crashing a giant helicopter into my one and only 16th birthday pool party) "Do...you...have any...candy corn?"
I'm serious. Someone watch it so you can understand just how
insanely awesome
this idea is. This is going to be at least 500% better than last year's
Redneck Mullet Man Who May Or May Not Have Pumped Your Gas Yesterday
costume.