mary kate and her unhappy trampoline...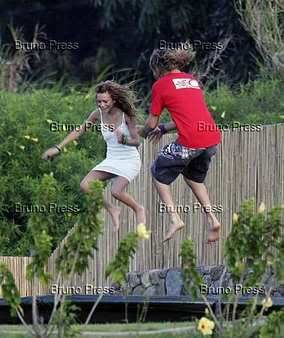 When did trampolines instantly start denoting happiness?
Through these
pictures of trampolinization
, we're supposed to just infer that all is right in Mary-Kate World? Symbolicallly, her bouncing means she's finally kicked her carb fears, her coke cheers and her anxiety about representing the Lollipop Guild?? Well, hell. If that's the truth, I better get in the trampoline selling business because there will be a celebrity run on them once their publicists get wind of this new career-altering trend.
But, actually, I have to call BS, Mary Kate. I don't think you're happy at all. I think you're bouncing angry. Yes, it is true. As a kid, I often bounced angry. I hardly ever went on a trampoline initially happy. My mom would be like, "Son, don't bounce angry." But I wouldn't listen, I'd bounce to some N.W.A. to get frustrations out and then I'd bounce off into a tree or break an arm or something. I think that's the place in which Mary Kate is now in. She needs our help more than anything. She's, figuratively and literally, barely bouncing. Behemoth Boyfriend is doing all the work. She's just putting on a smile facade. Someone buy her a iced mocha frapp or somethin.