how to successfully market a movie to a coveted demographic (such as mine)...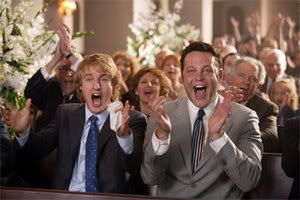 1. Have a cast that boasts four of my favorite male stars, two which are the leads, one in a supporting role (Walken) and one with a cameo (Will Ferrell)
2. Have a hot chick or two (Rachel McAdams will do, for one) in the movie and make sure it's rated R.
3. Come out with a geeky but INSANELY AWESOME way to put my 2 favorite 80's movie stars in the same
imaginary AND fantastic Wedding Crashers trailer
(BTW, this should be a marketing ploy for every single movie from now on. I'm dying to see these two icons in more movie trailers together).
(Thanks to
Megan
and
Thighmaster
for the inspiration)