miss teen usa's a slave to the red carpet man...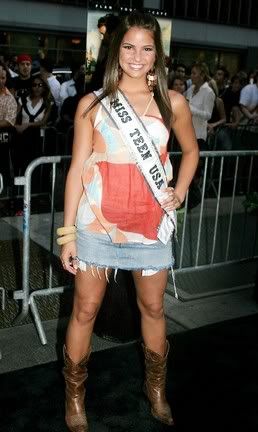 The Guy In Charge Of Inviting People To These Things:
Okaaay, Miss Teen USA. We'd like to cordially invite you to the world premiere of the new Michael Bay film,
The Island
.
Miss Teen USA:
OMG!! YAAAAAAAAAAAYYYYY!!! WHAT AM I GOING TO WEAR? WHO WILL I GET TO DO MY HAIR!!!! I HAVE TO BUY A NEW DRESS!! NEW MAKEUP!!! WHO SHOULD I ASK TO GO WITH ME???? THIS IS ALL SO NEW AND EXCITING!!! IT WILL CHANGE MY WHOLE LIFE!!! JUMPSTART MY CAREER!!! MAYBE PEOPLE WILL ACTUALLY START TO SEE ME AS MORE THAN JUST A MODEL!! MORE THAN JUST A PRETTY FACE!!! MORE THAN JUST A GIRL THAT WON MISS TEEN USA!! ONE OF THREE THOUSAND PAGEANTS THAT NO ONE IN THE USA CURRENTLY CARES ABOUT OR WATCHES!!! YAAAAAAAAAAAAAYYY!! I GOTTA BARF!!! YAAAAYYY!!!
TGICOIPTTT:
Ummmm...yes. Actually, we'd like you to wear your official Miss Teen USA sash to the premiere.
MTUSA:
WHAT???
TGICOIPTTT:
Yes. Official sash. Please wear it.
MTUSA:
BUT IT'S IN THE WASH!!!
TGICOIPTTT:
Well that is a problem. Please get your little sister to sew you a new one. And while you're at it, wear some stupid cowboy boots and a couple of those bigass ugly bracelets all the girls are orgasming over nowadays. Thanks. Buhbye. (Hangs up)
MTUSA:
NOOOOOOOOOOOOOOOO!!!!