some other dude and the blowfish...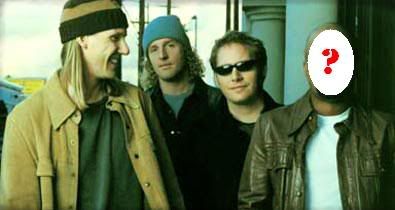 So I finally caught
Rock Star
last night. And I was pleasantly surprised. It wasn't terrible. Now, that doesn't mean that it was great. But when you ask someone for their opinion on a reality show (to see if you might want to brave it yourself), that's one of the best things you can say:
it wasn't terrible
. But since I'm always the consummate perfectionist, I took mental notes for Mark Burnett on how next season's version of the show (let us be optimistic, CBS) could improve:
1) INXS was a bad choice. I was drinking Uncomfortable-ade every time they were shown on the screen. They're just really really old...looking. So old it looks like Burnett ordered a team of PA's to blow-dry them out of their ice blocks (
Encino Band
??) minutes before taping. I'm sure there's plenty of younger washed-up bands that would love to get their
Rock Star
on. I'm thinking Hootie and The Blowfish and only for the entertaining renaming options. I know I'd go see Steve and the Blowfish.
1a) I totally spaced out on about three of the performances last night when I realized how young and female most of the contestants actually are (Let it be known that
Battlefield Earth chick
blows everyone else away). Won't that be weird to have a really talented young chick fronting
a band full of old dudes
? Kinda like something you'd see at the county fair or on the cruise ship to your spring break destination (as in the ferry-like ride one to the Bahamas and not "the actual cruise is your entire spring break"). No? Just me? Okay.
2) Cut down on all the reaction shots. Do we really need the relentless
Moulin Rouge
-ish assault of reaction shots from the crowd, reaction shots from the non-performing contestants AND reaction shots from INXzzzzzz(by far the worst, especially those that involved uncomfortable clapping)?? Not enough coverage on the, uh, rock stars? How did that happen?
3) Less is more on the critique front. Except for Dave Navarro. He's such a little horny dude that everything that comes from his mouth is PURE GOLD. I especially liked his comments about all the goosebumps he got from certain female contestants. "Look at this...see my jeans...they're so tight right now...thanks to you...hi to Carmen at home."
That's about it. Again, a pretty good show. I'm guessing Tuesday nights are the performance nights and thus the only nights worth watching. I mean, come on. Brooke Burke's the host. That's worth a glance or two right there. No? Okay, fine.